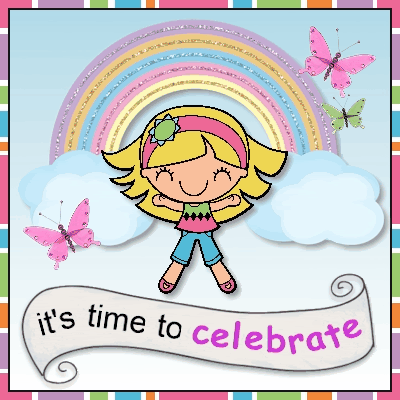 YIPPEE! Look who's turning ONE!
Your Next Stamp
, of course! This first year just flew by! The saying 'time flies when you're having fun' is soooo true!
We've got a super FUN blog hop planned starting August 5th to celebrate this exciting occasion and we need your help to spread the word!
The very talented Simonne has created this adorable blinkie for us - thank you Simonne!!!
All you need to do is...
grab the blinkie code, place the super cute blinkie on your blog
Add your blog link below and comment on this post to let me know you're helping spread the word.
You're name will then be entered into a random draw for a special new release stamp prize package! I'll announce the winner on Aug 5th.
Don't have blog? No worries...just comment below and let me know that you don't have a blog and you'll still be entered into the draw.
We've got some fabulous guest designers joining us along with prizes and some super adorable new releases!!!
This first year has been an amazing experience and I would like to thank you for your continued support!
Sending big stamping hugs your way!